Earn customers for life
Differentiate your brand with Dynamics 365 Customer Service. Built-in intelligence delivers faster, more personalized service and adds value to every interaction.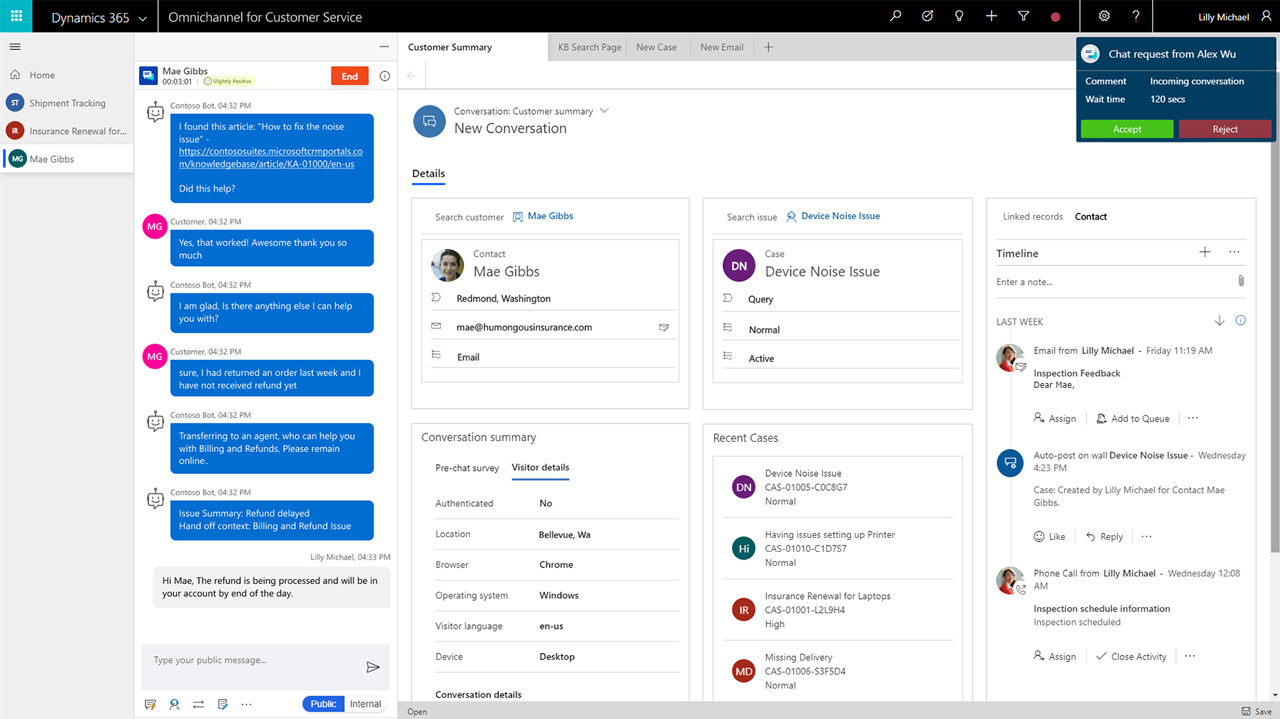 Omnichannel capabilities for Dynamics 365 Customer Service
Empower your agents to interact seamlessly with customers in real time through Chat for Dynamics 365, mobile text messaging with SMS (in preview), or AI-assisted service with your own Microsoft Bot Framework bot (in preview).
Deliver fast, personalized service
Create positive experiences through any channel and on any device to exceed customer expectations.
Learn from every interaction
Continuously improve while reducing costs by using data and intelligence to transform how you provide service.
Innovate with AI-driven insights
Create virtual agents, empower supervisors with actionable insights, and guide agents to the right outcomes.
Customer Service—even better with Dynamics 365 integrated customer service solutions
Deliver an exceptional omnichannel experience across all channels with integrated customer service solutions.
Engage customers in real time with chat
Use Chat for Dynamics 365—built on the Microsoft Teams communications platform—to engage with your customers in real time.
Enable SMS communication (in preview)
Engage customers on the go with SMS capabilities. Customers and agents use text messaging to engage in asynchronous communication.
Give your agents a comprehensive view of your customers' journey
Manage multiple customer conversations simultaneously, maintaining full customer context and history across channels and over time to deliver an omnichannel experience.
Provide customers with omnichannel engagement choices
Enable customers to self-serve through community resources and knowledge articles or to request assisted support through cases, SMS, or chats serviced by bots or human agents with seamless transfer of customer context between them.
Understand customers with real time and historical sentiment
Enable agents and supervisors to understand real time and historical customer sentiment across channels to improve customer service.
Bring your own Microsoft Bot Framework bot (in preview)
Plug in your already trained and tuned bot built on the Microsoft Bot Framework to begin omnichannel customer conversations and transfer the full conversation context to a live agent when needed.
Pargesoft Co UK Social Medya Account